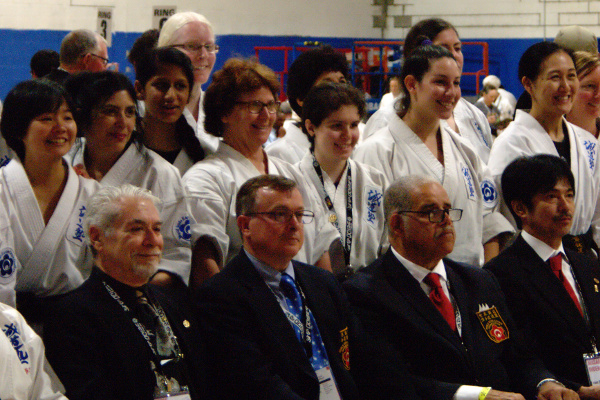 Over the past few weeks there have many disturbing incidents and news stories about bigotry and intolerance. Even before the politics surrounding the election, the FBI reports that "hate crimes" increased last year.
It's becoming clear that a lot of people are afraid of those who are different from them.
I want you to know that Seido Karate stands firmly against this trend. We are an international family. We have dojos in the United States, Japan, Australia, New Zealand, Brazil, Chile, China, India, Israel, Italy, Jamaica, Korea, Poland, South Africa, and the UK.
Seido Karate students include Christians, Jews, Muslims, Hindus, Buddhists, Shintoists, Pagans, atheists, agnostics, and pretty much any other religious denomination you can think of. We also include members of all racial and ethnic groups. We are also open and welcoming to the gay and lesbian community. Whoever you are, so long as you respect your fellow students you are welcome to train with us.
In Seido Karate, Kaicho Nakamura has created a cosmopolitan community. He has taken the best of traditional Japanese culture, fused it with the ideals of openness and equality that are the best American tradition, and given us a way to learn from and work with people all over the globe.
We Seido students are citizens of the world. I've hiked with Israeli students across the Japanese countryside, sat down to dinner with Muslim students from South Africa, been punched and kicked by men and women of all races and creeds.
I want you to know that you are welcome here. Whether you are black or white or Asian, Christian or Muslim or Jewish or atheist, gay or straight, Seido Karate welcomes you.
And if you continue your training you will have the opportunity to make friends across the world. It will expand your mind and help you understand other cultures.
But I also want you to know that as a Seido student you have a duty to stand up for these ideals. If you hear someone saying something bigoted or prejudiced, your training should give you the courage to stand up and say, "No. That's not right. That's not funny or cool."
That doesn't mean we should get into fistfights over insults! But if we let bigotry go unchallenged, we are not living up to the ideals of karate-do.
I hope that Seido Karate will help you find your best self in these challenging times.
Osu!